Kom over en artig bildesamling via Sociological Images:
Vintage Men's Magazines and a Pre-Consumerist Time
. Dette er altså forsider på manneblader fra tiden etter første verdenskrig, da mannsrollen hadde et noe annet uttrykk enn idag: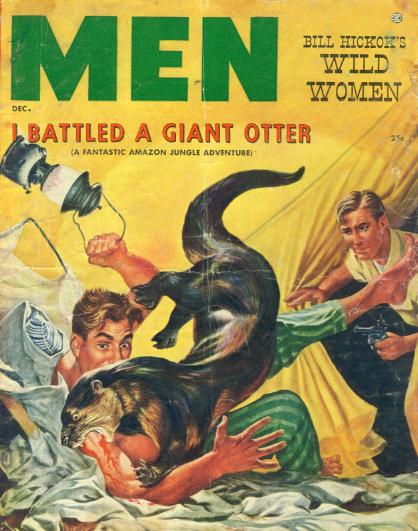 Bildene er fra
denne
boken. Saken er sakset fra The Art of Manliness, en
nettside
med
podkast
om menn og mannsrollen, som etter førsteinntrykket er ganske så bra. I originalsaken står det:
These "men's adventure" magazines catered to men of a different generation and reflected the taste and sensibilities of those men. The readership largely consisted of GI's who had fought and survived the Big One, men who had experienced both adventure and gruesome death and violence. In contrast to their experiences overseas, life back home seemed dull and mundane. Their wives and families who hadn't experienced the horrors of war had only vague notions of what things had been like "over there." In a life that seemed sterile and scrubbed clean, men's magazines were an oasis of the kind of unfettered manliness and grit the men were used to. And to the men who hadn't served, the magazines were a chance to live such adventures vicariously.
Denne røffe actionhelt-mannsrollen kontrasteres altså med dagens forbrukermann. Mannebladene har gått fra å inneholde historier om modige eventyrere i krig og jungel, til en kommersialisert suppe av kostholdstips, sjekketriks og den obligatoriske guiden til sixpack. Lisa på
Sociological Images
mener at "these old magazines pit man against nature or other men; consumption has not yet colonized the idea of masculinity."
Jeg tenker to ting:
- Karikaturen som vi i dag tegner av den gamle mannsrollen er sannsynligvis noe annet enn den gamle mannsrollen slik den ble forstått dengang. Når unge menn i dag ser til f eks sine bestefedre for inspirasjon (og det gjør
vi
jeg jo), er det ikke alltid med nøktern distanse. Man ser seg tilbake etter forbilder, og tolker deretter.
- Forbrukerrollen er viktig for vår selvforståelse. Det gjelder også for mannsrollen. Jeg liker det dårlig, men er nok ikke noe annerledes.